New TEKNAMOTOR Skorpion 250 EG wood chipper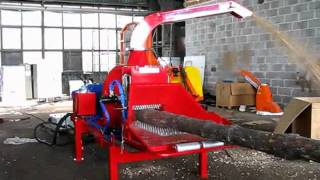 1/9
Location
Poland
Ostrowiec Świętokrzyski
Placed on
more than 1 month
Description
Overall dimensions
2.8 m × 1.4 m × 2.5 m
Need delivery?
Calculate the cost of delivery
Skorpion 250E / 250EG is a stationary disc chipper used to shred sawmill edgings, branches, tree trunks up to 250 mm in diameter.

The cutting system of Skorpion 250E /250EG consists of a disc equipped with two or three cutting blades, working with two counter knives. The cutting knives life has been optimized by their double-sided sharpening, which allows them to be rotated by 180 °, resulting in twice the length of their use. All the knives are made of appropriately selected tool steel and subjected to professional heat treatment. In addition, the chipper disc also fulfills the task of a fan and ejects produced chips through the ejection tube, which can be positioned in any direction at a full 360 ° radius.

The chipper is available in two versions: with a classic octagonal loading throat (Skorpion 250 E) [A] or with a loading table fitted with a toothed crawler (Skorpion 250 EG) [B]. It is driven by an electric motor of 45 or 55 kW.

The chopper is equipped with a hydraulic propulsion system for feeding the material, driven by its own hydraulic pump.

Safety of the operator of a chipper is ensured by a cable safety switch attached, which - by pulling the cord in any direction - causes the hydraulic feed system to stop immediately. Unlocking the system takes place by first pressing the "Reset" button before pressing the "forward" button to return to the normal operation of the chipper. Stopping the feeding might be also effected by pressing the "EMERGENCY STOP" button.

The machine is equipped with an electronic control system which automatically prevents overloading of the cutting system by temporarily stopping the feeding. Editing the No-stress overload system allows you to easily change the machine settings and adjust them to individual needs. The program "thick wood", "thin wood" allows a quick change of the working mode of the chipper to suit the currently shredded material and more effective work of the wood chipper. This system has a built-in hourly meter.

The wood chips obtained through the chipping process can be used for direct combustion in furnaces, for production of compost, for decorative purposes and, after repeated shredding in hammer mill, as a raw material for production of briquettes and pellets.

Overall dimensions (LxWxH) 3200 x 1400 x 2500[A] // 3000 (3580)* x 1430 x 2550[B] [mm]
Weight 1320[A] // 1800[B] [kg]
Branch diameter 250 [mm]
No of knives 2 or 3 cutting + 2 counter-knife
Feeding speed up to 42 [running meters/min]
Chipping capacity up to 18 [stère meters/h]
Chip width from 9 to 14 [mm]
Feeding unit hydraulic feeder
Disk diameter 800 [mm]
Hopper dimensions (WxH) 420 x 255 [mm]
Type of drive elektric engine
Main engine power 45/55 [kW]

()* - dimension after the loading table is unfolded, during operation.

Equipment included:
- Control switchbox
- Independent hydraulic system
- Adjustment of height of ejecting the chips
- Rotary chimney 360°
- Elektric anti-stress system

Additional accessories on request:
- Extension of the ejection tube
Skorpion 250E /250EG е предназначен за рязане на клони и стволове с диаметър до 250 mm.

Това е дисков модел с пневматична система за изхвърляне на стърготини, инсталирана на диска. Стърготините се изхвърлят чрез тръба, която може да се обръща 360° спрямо шасито. Системата на рязане се състои от диск с 2 или 3 режещи ножа, заточени от двете страни. Чипърът се предлага в два варианта: с класическа осмоъгълна захранваща фуния (Skorpion 250 E) [A] или със захранваща верижна маса (Skorpion 250 EG) [B], като и двата са задвижвани от двигатели с капацитет 45 или 55 кВ. Дробилката е оборудвана с хидравлична задвижваща система на валяци, обслужващи входящия материал; системата се движи на собствена хидравлична помпа.

Като стандартно оборудване на дробилката се използва още електронната система за контрол на работата (анти-стрес), която автоматично предотвратява претоварване на системата за задвижване чрез временно спиране на подаването на материал.

Произведените стърготини могат да се използват за директно изгаряне в пещите, за произвеждане на компост, за декоративни цели. След повторно смилане в чукова мелница може да се използват като суровина за производство на брикети и пелети.

Размери (д x ш x в) 3200 x 1400 x 2500 [A] / 3000 (3580)* x 1430 x 2550 [B] [мм]
Тегло 1320[A] / 1800[B] [кг]
Диаметър на клоните 250 [мм]
Брой на ножовете 2 или 3 режещи + 2 подкрепящи
Скорост на подаване дo 42 [линеен м/мин]
Чипинг капацитет дo 18 [насипен м3/h]
Ширина на стърготини oт 9 дo 14 [мм]
Начин на захранване хидравличен фидер
Диаметър на режещия диск 800 [мм]
Размери на гърлото (шир x вис) 420 x 255 [мм]
Мощност на главния двигател 45 или 55 [кв]
()* – размери след монтиране, по време на работа


Стандартно оборудване
регулиране на височината на изхвърляне на стърготините
-въртяща тръба 360º
-собствена хидравлична система

Допълнително оборудване
-повишаване на тръба за изхвърляне
Štěpkovač Skorpion 250E /250EG je strojní zařízení sloužící ke štěpkování větví, kmenů stromů a dřevěné kulatiny, a také dřevného odpadu o průměru do 250 mm.

Skorpion 250E /250EG je talířový štěpkovač s pneumatickým systémem vyhazování na talíři. Štěpka je vyhazována otočným komínem, jež se otáčí o 360° vůči podvozku. Řezný systém tvoří kotouč s 2 nebo 3 řezacími noži (oboustranně broušenými). Štěpkovač nabízíme ve dvou provedeních: s klasickým osmihranným nakládacím hrdlem (Skorpion 250 E) [A] nebo nakládacím stolem s naistalovanou v něm housenicí (Skorpion 250 EG) [B], je poháněn elektromotorem o výkonu 45 nebo 55 kW.

Tento štěpkovač je vybaven hydraulickým pohonem válců pro posun materiálu, jež je napájen z vlastního hydraulického systému.

Tento štěpkovač je vybaven elektronickým systém kontroly práce, jež automatický zabráňuje přetížení sekací soustavy, a to časovým pozastavením podávací soustavy.

Vyrobená štěpka se může použit pro přímé spalování v pecích kotlích, pro kompostování, pro dekorační účely, jakož i po sekundárním rozdrcení v kladivovém mlýně jako surovina pro výrobu briket a pelet.

Rozměry (délka x šířka x výška) 3200 x 1400 x 2500 [A] / 3000 (3580) x 1430 x 2550 [B] [mm]
Hmotnost 1320[A] / 1800[B] [kg]
Průměr větví Max. průměr štěpkovaného materiálu 250 [mm]
Počet nožů 2 nebo 3 řezací + 2 opěrné
Rychlost podávání do 42 [bm/min]
Výkon stroje do 18 [m3/h]
Šířka štěpky od 9 do 14 [mm]
Způsob podávání (posunu materiálu) hydraulický podavač
Průměr řezného kotouče řezacího talíře 800 [mm]
Rozměry vstupu hrdla (šířka x výška) 420 x 255 [mm]
Výkon podávacích motorů 45 nebo 55 [kW]


Standardní vybavení:
- regulace výšky vyhazování štěpky
- otočný komín 360º
- vlastní hydraulický rozvod

Opce vybavení:
- prodloužení výfukové roury
Picadora Skorpion 250E / 250EG sirve para triturar ramas, troncos de árboles de diámetro hasta 250 mm.

Skorpion 250 E / 250EG es una picadora fija de disco con sistema neumático de lanzamiento en el disco. La viruta es lanzada a través de una columna giratoria en 360° en relación al chasis. El sistema de corte es formado por un disco con 2 o 3 cuchillos (con ambos cortes afilados). La picadora es accionada para el motor eléctrico con la potencia de 45 o 55 kW.

La picadora posee un sistema de palanca que manda el manipulador hidráulico del cambio del sentido de rotación de los rodillos de alimentación. La picadora es equipada con el sistema electrónico No-stress que automáticamente previene sobrecargas en el sistema de propulsión a través de interrupción temporal el grupo alimentador.

La viruta obtenida puede ser empleada para la combustión directa en hornos, para la producción del compost, para fines decorativos, y, tras otra trituración por el molino de martillos, como una materia para fabricar briqueta y pellet.

Dimensiones (largo x ancho x alto) 3200 x 1400 x 2500[A] // 3000 (3580) x 1430 x 2550[B] [mm]
Peso 1320[A] // 1800[B] [kg]
Diámetro de la rama 250 [mm]
Cantidad de cuchillos 2 o3 cortantes + 2 de soporte
Velocidad de alimentación hasta 18 [mlineal/min]
Rendimiento de producir virutas hasta 18 [m3/h]
Ancho de la viruta de 9 a 14 [mm]
Modo de alimentación alimentador hidráulico
Diámetro del disco cortante 800 [mm]
Dimensiones del cargadero (ancho x alto) 420 x 255 [mm]
Tipo de tracción motor eléctrico
Potencia del motor principal 45/55 [kW]
()* - medidas después del desplegado.

Equipamiento estándar:
-ajuste de altura de lanzamiento de virutas
-tubo giratorio 360º
-propio sistema hidráulico

Equipamiento opcional:
-el alargamiento del tubo d'eyección
La déchiqueteuse Skorpion 250E / 250EG sert à émietter des branches, des billots d'arbres de diamètre à 250 mm.

Le Skorpion 250E / 250EG est le broyeur stationnaire à plaquette avec un système pneumatique de reprocher sur la plaquette. La plaquette est le système coupant composé de 2 ou 3 couteaux coupants (affûtés de deux cotés). Il existe 2 version de ce broyeur: le broyeur avec la gorge classique et avec livreur de chenille. La déchiqueteuse est équipée au système hydraulique des rouleaux qui livre du matériel. Ce système est commandé par sa propre pompe hydraulique. Le broyeur est commandé par le moteur électrique de puissance de 45 ou 55 kW. Les copeaux de bois sont rejetés par la cheminée tournante et tournée de 360º par rapport aux châssis.

Le broyeur possède le système de levier qui commande le séparateur hydraulique pour le changement du sens de rotation des rouleaux commandés et, de plus, le broyeur est équipé au système du contrôle de travail qui prévient à la surcharge de l'arrangement de commande grâce à l'arrêt temporaire du système de livraison.

Dimensions (longueur x largeur x hauteur) 3200 x 1400 x 2500 [A] // 3000 (3580 dimension de la machine repliée, en cours du travail) x 1430 x 2550 [B] [mm]
Poids 1320[A] // 1800[B] [kg]
Branches de diamètre 250 [mm]
Nombre de couteaux 2 ou 3 lames + 2 appui de coupe
Alimentation 42 [mb/min]
La capacité de Chipping à 18 [m3/h]
Largeur du copeau de bois de 9 à 14 [mm]
Mode d'administration chargeur hydraulique
Diamètre du disque 800 [mm]
Choke dimensions (largeur x hauteur) 420 x 255 [mm]
Modèle de moteur le moteur éléctrique
Puissance du moteur 45/55 [kW]

Équipement standard:
-Régulation de hauteur de jeter les copeaux de bois
-Tuyau tournant de 360º
-Propre système hydraulique

Équipement optionnel:
-Surélévation de la cheminée
Rębak Skorpion 250E /250EG jest stacjonarnym rębakiem tarczowym służący do rozdrabniania zrzyn tartacznych, gałęzi, pni drzew o średnicy do 250 mm.

W rębaku Skorpion 250E /250EG, układ tnący stanowi tarcza wyposażona w dwa lub trzy noże tnące, współpracująca z dwoma nożami podporowymi. Żywotność noży tnących została zoptymalizowana poprzez ich obustronne zaostrzenie, co pozwala na obracanie ich o 180º, a w efekcie dwukrotnie dłuższe ich używanie. Wszystkie noże są wykonane z odpowiednio dobranych stali narzędziowych oraz poddane profesjonalnej obróbce cieplnej. Dodatkowo tarcza rębaka spełnia również zadanie wentylatora i wyrzuca uzyskany zrębek przez rurę wyrzutową z możliwością ustawienia jej w jakimkolwiek kierunku na pełnym promieniu 360º.

Rębak oferowany jest w dwóch wersjach: z klasyczną ośmiokątną gardzielą załadowczą (Skorpion 250 E) [A] lub stołem załadowczym z zainstalowaną w nim zębatą gąsienicą (Skorpion 250 EG) [B], napędzany jest silnikiem elektrycznym o mocy 45 lub 55 kW. Rębak wyposażony jest w hydrauliczny system napędowy podawania materiału, napędzany z własnej pompy hydraulicznej.

Nad bezpieczeństwem operatora rębaka czuwa linkowy wyłącznik bezpieczeństwa, który poprzez pociągnięcie linki w dowolną stronę powoduje zatrzymanie hydraulicznego układu podawczego. Odblokowanie układu następuje przez wciśnięcie przycisku "Reset", następnie aby powrócić do cyklu pracy rębaka (wciągania materiału) należy wcisnąć przycisk "Do przodu". Zatrzymanie układu podawczego następuje również poprzez wciśniecie przycisku "STOP AWARYJNY".

W standardzie wyposażony jest w elektroniczny system kontroli pracy, który automatycznie zapobiega przeciążeniu układu tnącego, poprzez czasowe zatrzymanie układu podającego. Edytowalne oprogramowanie systemu antyprzeciążeniowego pozwala w prosty sposób na zmianę ustawień pracy maszyny i dostosowanie do indywidualnych potrzeb. Program "grube drewno", "cienkie drewno" umożliwia szybką zmianę trybu pracy rębaka celem dostosowania do aktualnie rozdrabnianego materiału i efektywniejszej pracy rębaka. System ten ma wbudowany licznik motogodzin.

Uzyskany zrębek może zostać wykorzystany do bezpośredniego spalania w piecach, do produkcji kompostu, do celów dekoracyjnych oraz po wtórnym rozdrobnieniu przez młyn bijakowy jako surowiec do produkcji brykietu i peletu.

Gabaryty (dł. x szer. x wys.) 3200 x 1400 x 2500[A] // // 3000 (3580 wymiar po rozłożeniu, w trakcie pracy) x 1430 x 2550 [B] [mm]
Waga 1320[A] // 1800[B] [kg]
Średnica gałęzi 250 [mm]
Ilość noży 2 lub 3 tnące + 2 podporowe
Szybkość podawania do 42 [mb/min]
Wydajność zrębkowania do 18 [m3/h]
Szerokość zrębka 9 lub 14 [mm]
Sposób podawania - dwie rolki zębate o napędzie hydraulicznym [A], rolka zębata i podajnik gąsienicowy o napędzie hydraulicznym [B]
Średnica tarczy tnącej 800 [mm]
Wymiary gardzieli (szer. x wys.) 420 x 255 [mm]
Rodzaj napędusilnik elektryczny
Moc silnika 45 lub 55 [kW]

Wyposażenie standardowe:
-szafa sterownicza
-rura wyrzutowa ze ślimakową obrotnicą 360°, deflektor.
-własny system hydrauliczny

Wyposażenie opcjonalne:
-podwyższenie rury wyrzutowej
Maşina de tocat lemn Skorpion 250E /250EG este destinată pentru tocarea crengilor şi trunchiurilor de copaci cu diametru de până la 250 mm.

Skorpion 250E / 250EG este o maşină de tocat lemn cu disc, cu sistem pneumatic de evacuare pe disc. Materialul tocat este evacuat prin-un tub rotativ la 360˚ faţă de şasiu. Sistemul de tăiere constituie un disc pe care sunt montate 2 sau 3 cuţite de tăiere (cuţite sunt ascuţite pe ambele părţi). Maşina de tocat lemn este echipată cu un sistem hidraulic de acţionare a rolelor pentru alimentarea cu material, acţionat cu o pompă hidraulică proprie.

Maşina de tocat lemn este echipată cu un sistem electronic care opreşte în mod automat suprasarcina sistemului de acţionare, prin oprirea temporară a sistemului de alimentare.

Materialul obţinut prin tocare poate fi folosit pentru ardere directă în cazane, pentru producerea compostului, în scopuri decorative, precum şi după mărunţirea secundară în moara cu ciocane ca materie primă pentru producţia de brichete si peleţi.

Gabarite (lungimea x lăţimea x înălţimea)3200 x 1400 x 2500 [A] // 3000 (3580)* x 1430 x 2550 [B] [mm]
Greutate 1320[A] / 1800[B] [kg]
Diametrul crengii [mm] 250 [mm]
Numărul de cuţite 2 sau 3 cuţite de tăiere + 2 de susţinere
Viteza de alimentare până la 42 [m/min]
Randament de tocare până la 18 [m3/h]
Lăţimea materialului tocat de la 9 până la 14 [mm]
Mod de alimentare alimentator hidraulic
Diametrul discului 800 [mm]
Dimensiuni ale gurii de alimentare (lăţimea x înălţimea) 420 x 255 [mm]
Puterea motorului principal 45 sau 55 [kW]
()* – dimensiune în timpul de lucru

Echipament standard
- reglarea înălţimii de evacuare a materialului tocat
- tub rotitor la 360º
- sistemul electronic de suprasarcină "No-stress"

Echipament opţional
- jgheab de evacuare mai înalt.
Модель из группы дисковых дробилок – стационарный с приводом от электрического двигателя мощностью 45 или 55 кВт.

Предназначенный для дробления ветвей диаметром до 250 мм. Имеет гидровлический подаватель, который самостоятельно втягивает в горловину ветви, что делает обслуживание устройства легким и простым. Применение гидровлической системы подачи увеличает 3-4 кратно производительность через текучесть резьбы ветвей, что обеспечивает постаянную загрузку со скоростью 42 м/мин и производетильность на уровне 18 м3/час.

Машина особенно рекомендована для лесопильных комбинатов.

Габариты (дл. x шир. x выс.) 3200 x 1400 x 2500[A] // 3000 (3580 габариты в рабочем режиме) x 1430 x 2550 [B] [мм]
Вес 1320[A] // 1800[B] [кг]
Диаметр ветвей 250 [мм]
Каличество ножей 2 или 3 режущих и 2 контрножа
Скорость работы транспортера до 42 [м/мин]
Производительность до 18 [м3/час]
Ширина щепы 9 до 14 [мм]
Способ подачи гидровлический подаватель
Диаметр диска 800 [мм]
Размеры горловины (шир. x выс.) 420 x 255 [мм]
Мощность двигателя 45/55[квт]

Стандартная комплектация:
-собственная гидровлическая система
-регулировка высоты выбрасывания щепы
-труба вращения 360o
-система No-stress

Дополнительная комплектация:
-удлинение щепопровода
Модель из группы дисковых дробилок – стационарный с приводом от электрического двигателя мощностью 45 - 55 кВт.

Предназначенный для дробления ветвей диаметром до 250 мм. Имеет гидровлический подаватель, который самостоятельно втягивает в горловину ветви, что делает обслуживание устройства легким и простым. Применение гидровлической системы подачи увеличает 3-4 кратно производительность через текучесть резьбы ветвей, что обеспечивает постаянную загрузку со скоростью 42 м/мин и производетильность на уровне 18 м3/час.

Машина особенно рекомендована для лесопильных комбинатов.

Габарити (Д х Ш х В) 3200 x 1400 x 2500 [A] / 2800 (3200)* x 1400 x 2500 [B] [мм]
Вага 1320 [A] - 1800 [B] [кг]
Діаметр гілки 250 [мм]
Кількість ножів (лез) 2 або 3 ріжучих і 2 контрножа
Швидкість подачі до 42 [м/хв]
Продуктивність до 18 [м3/год]
Ширина тріски 9 до 14 [мм]
Спосіб подачі гідравлічний подавач
Діаметр диска 800 [мм]
Розміри горловини (шир. х вис.) 420 x 255 [мм]
Потужність двигуна 45 або 55 [квт]


Стандартна комплектація:
- власна гідравлічна,
- система регулювання висоти викидання щепи,
- труба обертання 360º,
- система No-stress

Додаткова комплектація:
- подовження щепопровіда
Important
This offer is for guidance only. Please request more precise information from the seller.
Safety tips
Seller's contacts
Poland, Swietokrzyskie, 27-400, Ostrowiec Świętokrzyski, Świętokrzyska 2a
Seller's local time: 13:30 (CEST)
Selling machinery or vehicles?
You can do it with us!